On Thursday 7 November, was held the Best of Wine Tourism ceremony of the Great Wine Capitals in Bordeaux. 86 applications were received for Bordeaux in order to win a best of wine tourism award, in one of the 7 categories of the contest.
Château de La Dauphine is the great winner with 2 new awards !
First, a 4th GOLD Best of Wine Tourism award in the category " Innovative wine experiences" for the Heritage Tour : a tour in a 2CV car to discover the historical, cultural and gastronomic assets of the estate and the region. And an International Award was also attributed , highlighting Château de La Dauphine for its excellence and remarkable wine tourism experiences.
Indeed, since 2012 Château de La Dauphine opens the estate to visitors through many type of tours, workshops and lunches. Château de La Dauphine is the elegant blend history and modernity, it offers authentic experiences where quality is at heart along environmental practices.
Château de La Dauphine is also winner in : 2014 for Architecture & Landscapes, 2016 for Food Service and 2018 for Environmental Practices.
Château de La Dauphine is the one and only estate of Bordeaux having 4 GOLD awards and an International award.
For more information we invite to visit our website or to contact us contact@chateau-dauphine.com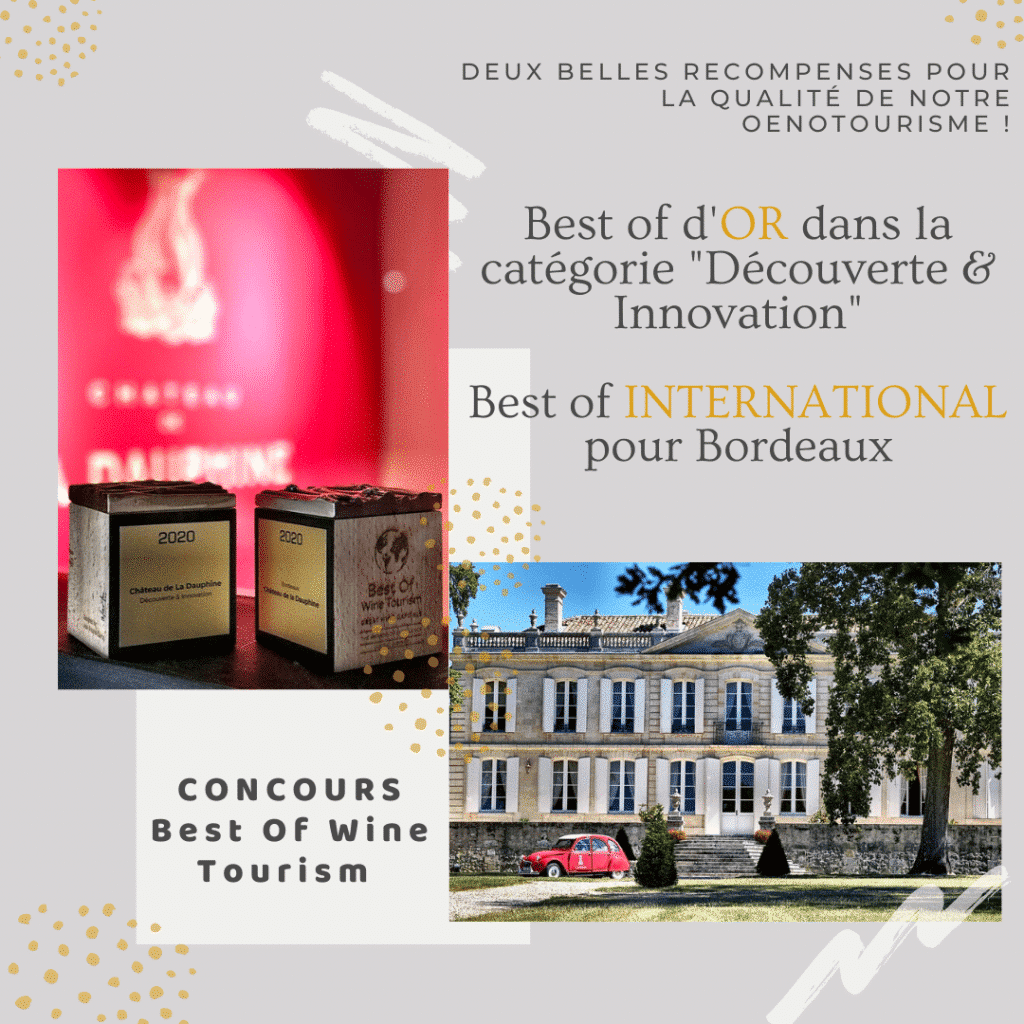 The Heritage Tour in 2CV
Climb aboard a legendary Citroën 2CV for a tour of La Dauphine and the region's historical, cultural and gastronomic heritage. The journey begins in the property's park and vineyard, followed by a visit to our fishing hut and truffle orchard. We then return to La Dauphine, for a hilltop tasting of three wines accompanied by various regional specialities, such as lamprey rillettes, truffle butter, dried duck breast, Basque sheep's milk cheese, Bordeaux's cannelé pastries, and a panoramic view!

Individual rate: €40.00 inc. tax/person
Duration: 2h
2 to 3 people maximum
May to October