The 2018 vintage: an adventure from start to finish!

Having virtually drowned the pruning team during the winter and frayed our nerves in the spring with an epic battle against mildew, the vintage then made a 180 degree turn at the beginning of July and the "Bordeaux miracle" occurred once again, with a magnificent summer and early autumn!
The summer of 2018 was the hottest since 2003, but without the latter's excesses and water stress, since reserves had been amply replenished at the beginning of the year and enabled the vines to cope with the lack of rain during July and August. Despite a very serious threat of disease – especially mildew –La Dauphine's organic and biodynamic management came through with excellent resultsand about 15% of the harvest was lost. As we started picking the property's 53 hectares at the end of September, the weather remained glorious, enabling the Merlot on the limestone plots and the Cabernet to finish ripening in perfect, warm conditions.
The vintage produced small berries with thick, ripe skins resulting in richly-coloured wines. The seeds were also somewhat unusual, revealing their advanced maturity with a dark brown colour and very little astringency During the vinification process, extraction was very gentle, resulting in structured yet silky wines They offer tremendous aromatic richness, ranging from red and black fruit (blackcurrants, redcurrants, raspberries) to a hint of liquorice and spicy notes for the Cabernet

2018 will be remembered as much for the trials of its spring as for the richness of its wines. In addition to being one of Bordeaux's most structured vintages, 2018 has a surprising freshness: two characteristics that promise an excellent capacity to age.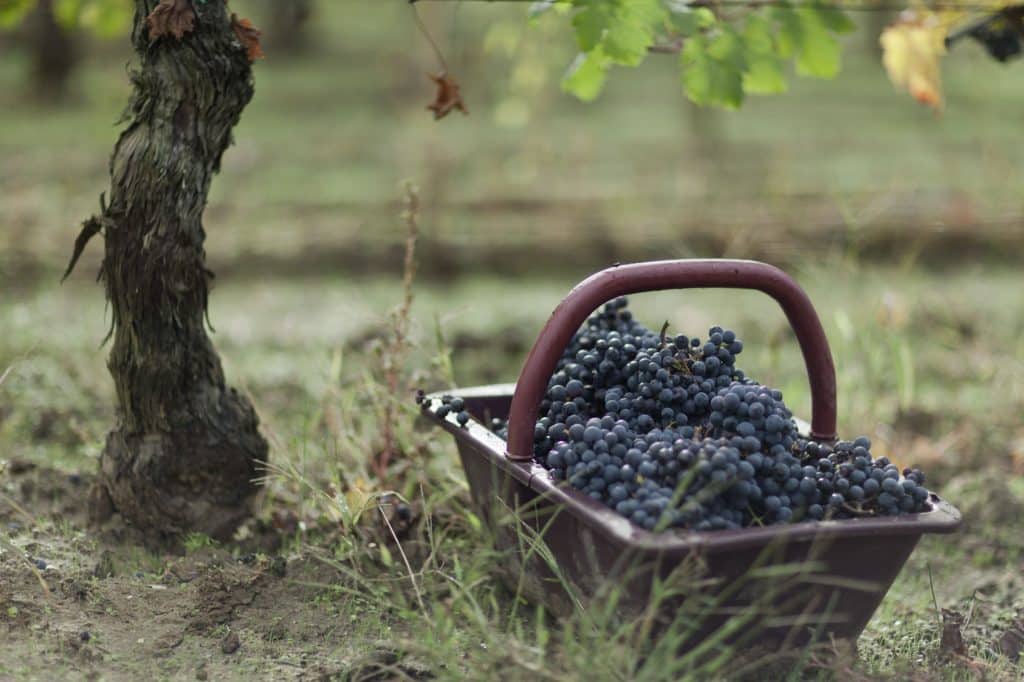 SCORES & REVIEWS
Neal Martin pour VINOUS : 92-94 (best score for Fronsac appellation)
The 2018 La Dauphine is blessed with a knockout bouquet of precocious black currant and raspberry fruit laced with tobacco and clove, very focused and very well delineated. The palate is medium-bodied with supple tannins, great depth, very good acidity and a surfeit of freshness. Silky-smooth on the plummy finish, this is an utterly delicious Fronsac that will give a couple of decades of drinking pleasure."
James Suckling : 92-93 A tangy and energetic sense to this Fronsac with dark berries, wet earth and a mineral undertone. Medium-bodied, focused and real.

Jeff Leve : 91-93 Showing good color, the wine is rich, fat and juicy, espresso, dark chocolate covered cherries and licorice from start to finish. Lush, rich and concentrated, there is length, density and freshness here. Plus, you can pop a cork on release or age it for a few years.

Jane Anson : 93 A delicious wine that has been well handled comprising vibrant fruits with brambles and hedgerows keeping things on the right side of slick. A good job done here with the estate retaining biodynamics even through a tough vintage. Drinking Window 2022-2032

René Gabriel : 17 Herbes, feines Bouquet, blaue und schwarze Beeren, Zedern, Korinthen, heller Tabak. Eleganter, frischer Gaumen mit kräftiger, süsser Frucht, feinem Tannin, fein cremiger Struktur, kräftiger Aromatik, langer, würziger Abgang.

Bettane & Desseauve : 92-93 Ce vin est une nouvelle fois, l'un des meilleurs de son appellation, avec une attaque soyeuse et un tannin de velours qui se prolonge de la plus belle des façons, il y a un charme aromatique dans une palette de violette, de cerise noire, c'est déjà bien en place, avec une vraie fin de bouche construite sur la fraîcheur.

Lisa Perrotti – Brown : 88-90 The deep garnet-purple colored 2018 de La Dauphine delivers notes of fruitcake, plum pudding and Chinese five spice with touches of prunes, tobacco and dusty soil. Full-bodled, with a firm, chewy backbone and plenty of expressive berry preserves and spicy layers, it finishes earthy.

Yves Beck : 92-94 Pourpre violacé. Bouquet intense marqué par des notes crayeuses et du bois de réglisse. Touche de cerises, de cacao et de violettes. Au palais le vin est frais, racé et doté d'une tension qui lui confère une fraîcheur bienvenue. Les tannins sont parfaitement intégrés et assurent une belle assise à l'ensemble du vin. Bravo, belle réussite !

Christer Byklum : 91-93 Ruby. Blueberries, scented, some anise and spices nose. Fresh acidity, ripe tannins, anise, blueberries, some spices, light liquorice, elegant texture, long.

Chris Kissack : 93-95 This is a blend of 85% Merlot and 15% Cabernet Franc. It has a fresh and lightly grilled style of fruit on the nose, with blackcurrant and curranty notes, as well as a gentle chalky freshness and lift. The palate shows a supple weight and breadth, with dark and purely expressed fruits, especially blackcurrant, damson, liquorice and brambles, with touches of black pepper, and the same limestone bite as was suggested on the nose. Firm, full, grippy and fresh, this has substance and an elegantly sinewy poise. Great tannic substance in the finish. This is a very fine vintage for La Dauphine.

Jancis Robinson : 17 Yield 35 hl/ha even though they are biodynamic. 85 % Merlot, 15 % Cabernet Franc. 30% new oak. Barrel sample. Black, black core with narrow purple rim. The fruit so intense it becomes savoury but opens up to be bright blackcurrant, changing in the glass even now. But on the palate there is a lightness of touch giving really smooth texture, generous and velvety. Rich, compact and still fresh. Likely to be GV. (JH) drink 2024-2032.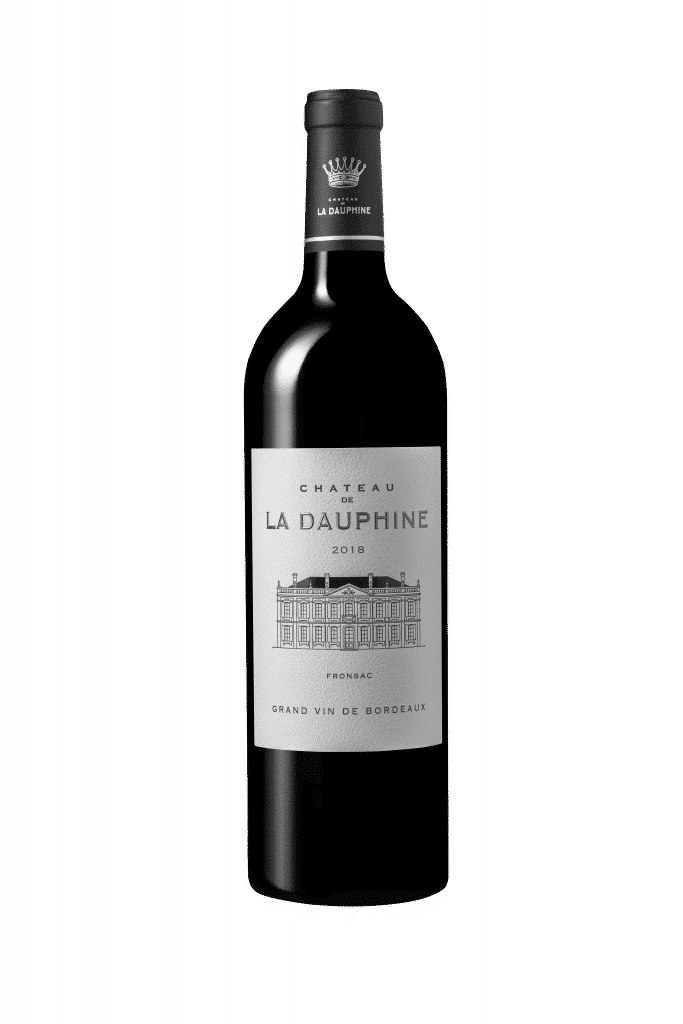 TECHNICAL SHEET
VINEYARD
Total surface : 53 Ha
Surface for this wine : 40 Ha
Yield : 35Hl/Ha
Soil : clay and Limestone, fronsac molasse, asteria limestone
85 % Merlot
15 % Cabernet Franc
Planting density 6600 vines/Ha
Average age of the vines : 26 years
plot by plot harvest from September 21st to October 15th 2018

WINEMAKING
Double sorting table before and after destemming, the grapes are gravity fed into tanks
Fermentation at 28°C. Maceration for 30 days
Extraction : Manual
Vertical pressing with separation of the musts
malolactic fermentation in Barrels (30%)
Maturing of separate batches in oak for 12 months with 30% of new barrels
Alcohol by volume : 15%